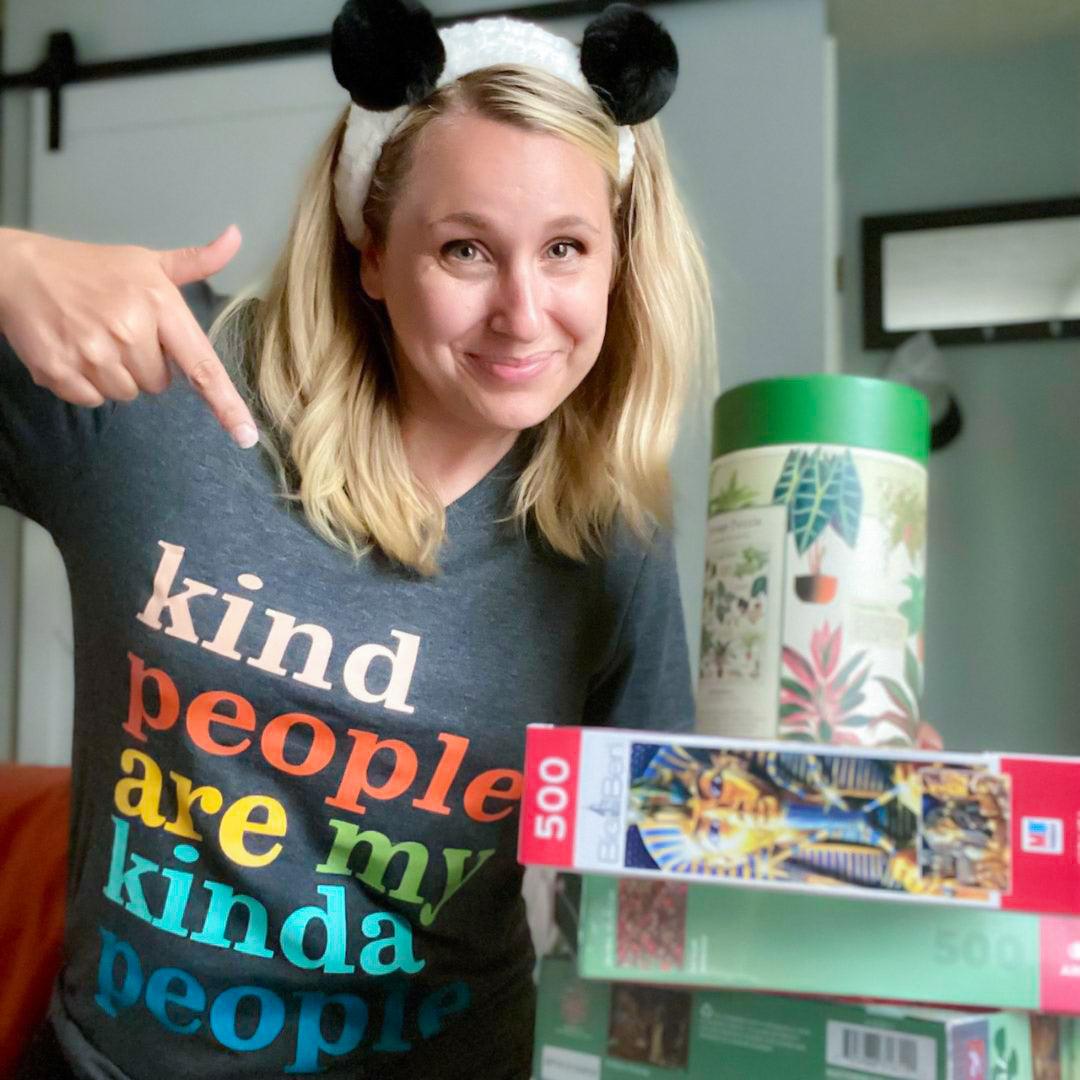 What is Puzzle Pandas? 
It's a worldwide, social media-powered geocache scavenger hunt for puzzles! It's a simple idea of sharing random acts of kindness and the mental health benefits of puzzles with others in our communities.
Where is it based? 
The initiative was originally founded in Cincinnati, Ohio in 2020 by me, Christine (some call me the Original Puzzle Panda). Since then, some official "hubs" in South Florida USA and Spain have been added. You can follow all of them on Instagram: @puzzlepandas_cincinnati, @puzzlepandas_southflorida (curated by @monicahilton513 & @puzzledcaro) and @puzzlepandas_spain (curated by @puzzlecrisalida).
How did it start in the beginning? 
I'm a "do a puzzle only once" type of puzzler. At the start of the pandemic, my puzzle pile was growing quickly and I was desperately searching for a way to give back to my community that didn't involve sewing masks. I was also intrigued by the idea of Book Fairies, who hide books worldwide for people to find. I'm a firm believer in timing is everything and having all of those things happen around the same time brought into the world the initiative of Puzzles Pandas.
What is your favorite part of the service you provide to the community? 
Having the honor to aggregate these random acts of kindness from all corners or the world, then filter it through social media to amplify the joy even more….THAT'S my absolute favorite part.
Do you have any fun stories from the Puzzle Panda club? 
Any time we hear from someone finding our puzzles makes for a wonderful story. Here are two of my favorites.
A woman wrote to me about finding a puzzle in Savannah, GA. She mentioned she was traveling on a yacht and her and the crew would enjoy putting it together. Then, she planned to "puzzle-it-forward" once they arrived in the Caribbean.
The second story comes from Cincinnati, when a 300 piece Captain America puzzle was "dropped" near a park popular with skateboarders. It didn't take long for one teen to find the puzzle and in a blink of an eye, puzzle pieces were flying all over the concrete. The first thought, "Eek, a ruined puzzle!" However, that wasn't true at all. He was calling his friends over to join him in putting it together.
How many Puzzle pandas are there? 
At the end of 2021, we had at total of 85 Puzzles Pandas from all around the world!
Tell us how puzzlers can participate. 
Anyone can join our mission – all you need is a puzzle or two (there's no limit) to give away, some official Puzzle Panda tags to include on your puzzle box and the intent to hide puzzles around your city for others to find and enjoy. Contact Christine at puzzlepandas.usa@gmail.com for printable tags OR you can order already printed tags here.
Do you have any message to the world? 
Puzzle Pandas might not change the world overnight, but through puzzles we're sharing love and some mental health benefits too. In a culture that is inundated with screens and technology, puzzles have become a tool for quieting our brains and a source of meditation for some. I believe even the smallest acts of kindness can make a big impact.