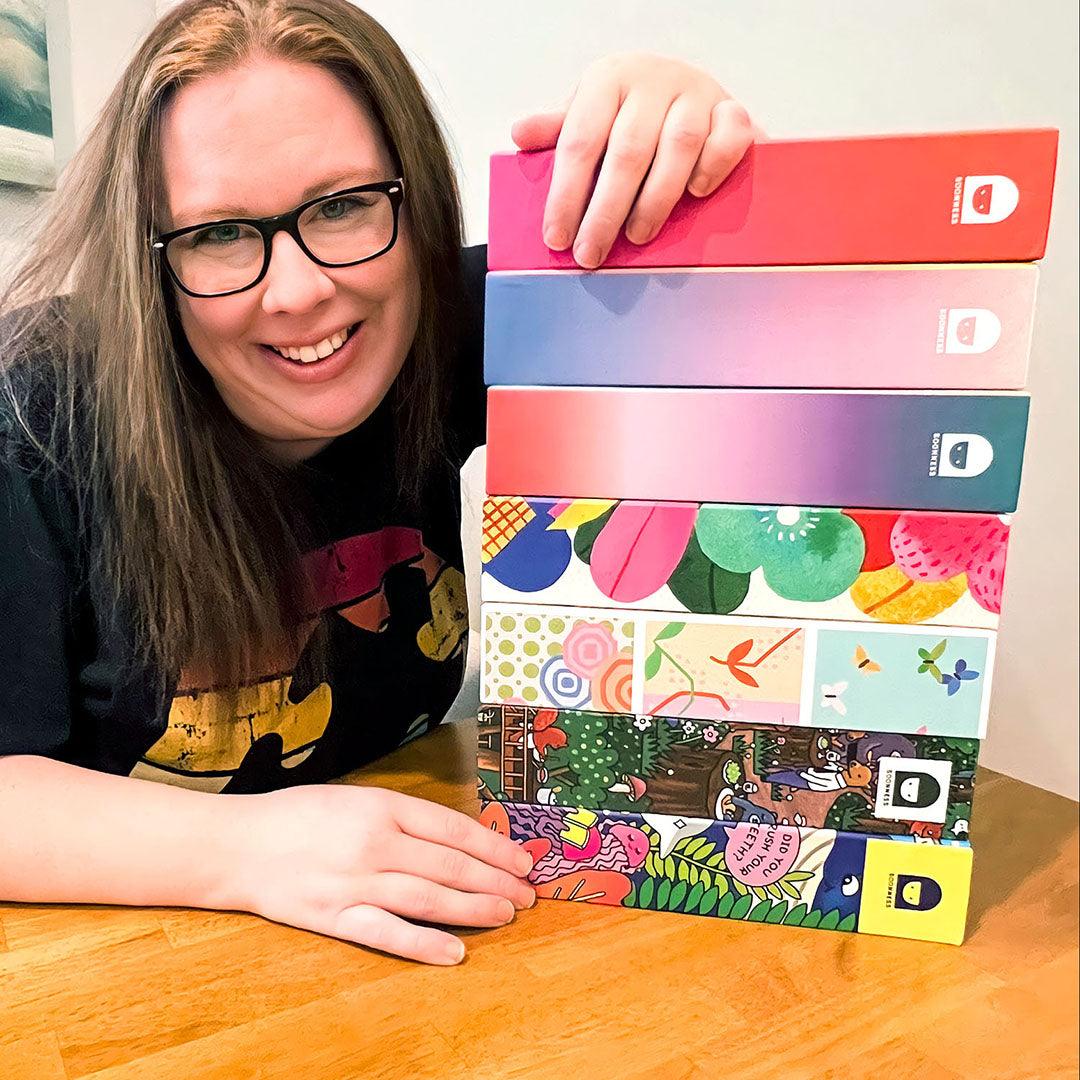 What's your name?
Jessica Komarow
Where are you from?
Avon, Connecticut
When did you start puzzling?
I remember as a child having tons of those cardboard tray puzzles that were popular in the 90s and doing them over, and over, and over. I've puzzled on and off my entire life since then! I became more serious about it when my first daughter was born in 2017. My husband and I started a 1500-piece puzzle together as a quiet activity to do while the baby was asleep and since then I haven't stopped!
What is your favorite piece count and why?
I love how many beautiful designs and illustrations are available in a 1000 piece count, so I think I gravitate toward those most often. That being said, I actually really love to sit down and do 500 piece counts because I can usually do them in a single sitting and what is more satisfying than that?
What is your favorite type of art?
Oof. The hardest question! I love so much art, especially when I get to support small independent artists. I am probably most often drawn to puzzles with bright and vivid illustrations or contemporary abstract designs. I love pieces that are unique and different. While I appreciate them as art - I don't tend to be drawn to puzzles that come from photographs, fine art, or landscapes.
What makes you keep puzzling and how often do you puzzle?
Puzzling is my happy place and I try to do a least a little bit every day. I spend my days chasing around two small children and at the end of the evening when they're all tucked in bed and I have a free moment to breathe - sitting down with a puzzle (in combination with a good audiobook or podcast) is a place of peace and calm for me to relax and wind down.
What is your go to drink/snack when you puzzle?
I can almost always be spotted with my giant hydroflask of water! If it's before 6PM, I am also likely holding a cup of coffee.
Tell us a little bit about your other joys.
I am a mom to two little girls, Emma and Lucy, who are the center of my universe and lights of my life. I also love spending time with my husband and together we enjoy binge-watching TV shows, playing games (though Scrabble has officially been banned in our house... a story for another day), and just generally spending time with our little family. I really enjoy reading (often combining audiobooks and puzzles) and video gaming. My husband and I have quite the collection of classic consoles!