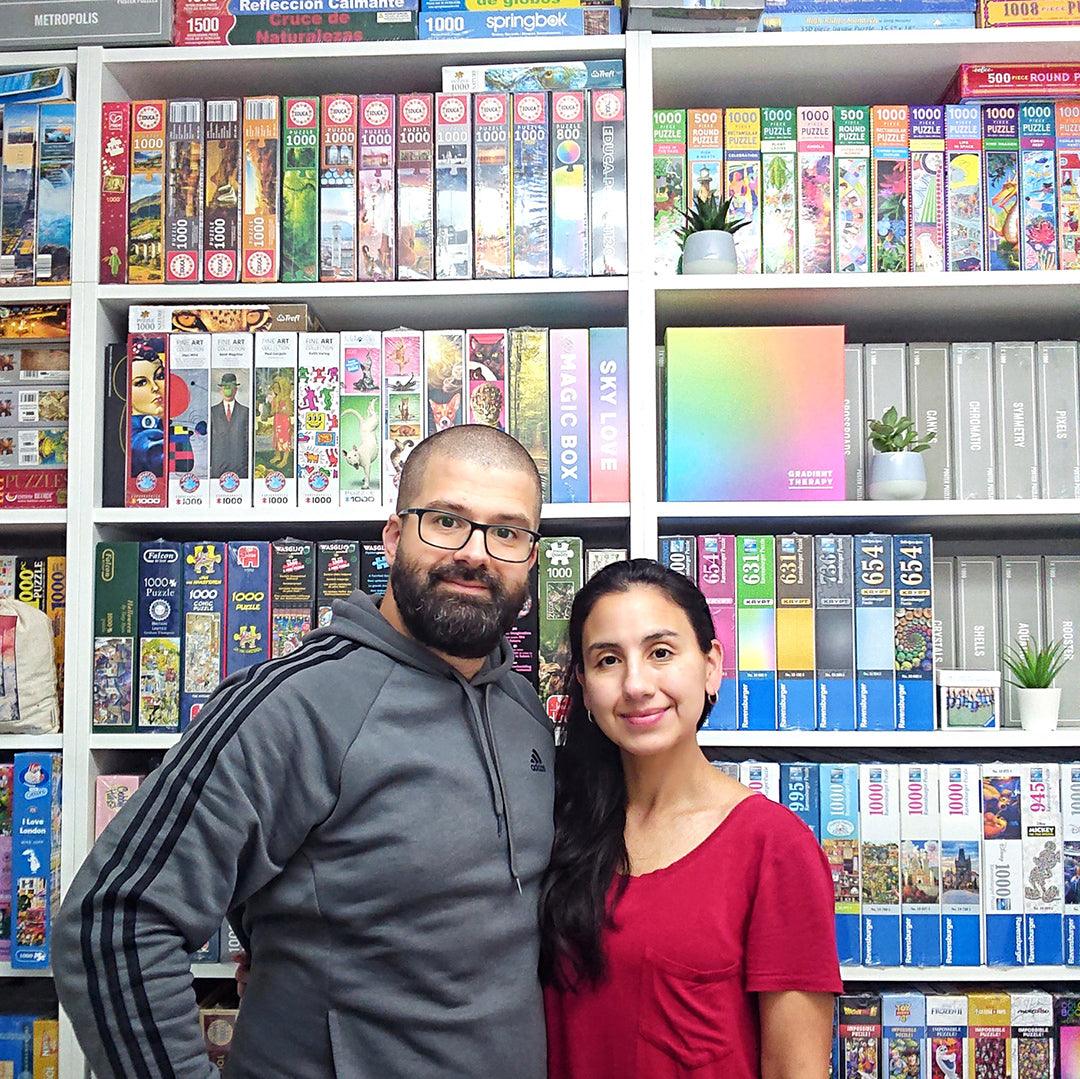 What's your name?
We are Jimena and JL, from Cronicas Puzzleras

Where are you from?
We are based near Barceloba, Spain. I am from Cali (Colombia) and JL is from Murcia (Spain).

When did you start puzzling?
I have been puzzling since I can remember; I am an only child and the youngest of my cousins, and every time we had a family reunion, I would take puzzles to have fun by myself. I remember doing my puzzles repeatedly and finding ways to make them more challenging as I grew up. During high school and university, I stopped puzzling, and a friend gave me a puzzle when I graduated; he signed me in a puzzle competition, and... I never stopped puzzling again. JL started puzzling when we met in 2015. He enjoys doing a couple puzzles a month while I puzzle every day.

What is your favorite piece count and why?
I prefer puzzles between 500 and 1500 pieces, that I can do in a day or two. JL likes 500 piece puzzles.

What is your favorite type of art?
I like a wide range of images. I like colorful, modern illustrations, gradients, animals, fine art, and some HD landscapes. It mainly depends on the mood I am in, and I can be working on several puzzles simultaneously. Also, I have a sweet spot for challenging puzzles; it can be a solid color, repeating pattern, or art (like impressionism). The more challenging, the better! JL likes comic and cartoon illustrations.

What makes you keep puzzling and how often do you puzzle?
I puzzle mostly every day. While I am having dinner, JL and I talk about our day or watch TV, and I get to puzzle for about 30 minutes or an hour before going to bed. This is my time to relax; puzzling helps me relax, disconnect from my work and just turn off my brain. It also helps me with anxiety, and it is a great mental exercise. It has helped me develop my attention to detail, better visual-spatial reasoning, and improve my concentration. Most months, we also participate in puzzle competitions, which is a great way to meet more puzzlers, see old friends, and travel! JL puzzles occasionally, maybe one or two per month, and he is also my partner in crime in some puzzle competitions.

What is your go to drink/snack when you puzzle?
If it's early in the afternoon, I will have coffee or tea. And at night, I puzzle while I'm having dinner. JL likes to have a big cup of coffee.

Tell us a little bit about your other joys.
Our joys... we are passionate travelers. We plan extensively and learn about the cities, their gastronomy, monuments, and history, so we can enjoy the most as we visit them. Our two spoiled dogs, Miguel and Pablo. They have very different personalities; we are always laughing at all the quirky things they do. We cannot imagine life without dogs; they are the joy of our house. We also enjoy concerts, from violin to indie, rock, or even salsa. There is something special about being in a stadium filled with people singing and dancing to the same music. We both enjoy reading, I like mysteries, suspense, and thrillers, and JL likes sci-fi. I like to do exercise, it can be running, cross-fit, pilates, just be active. JL likes his PlayStation, mostly strategy, quests, and action. It's fantastic that both of us have a hobby, so we can support each other.
Instagram Youtube Website Facebook Tiktok