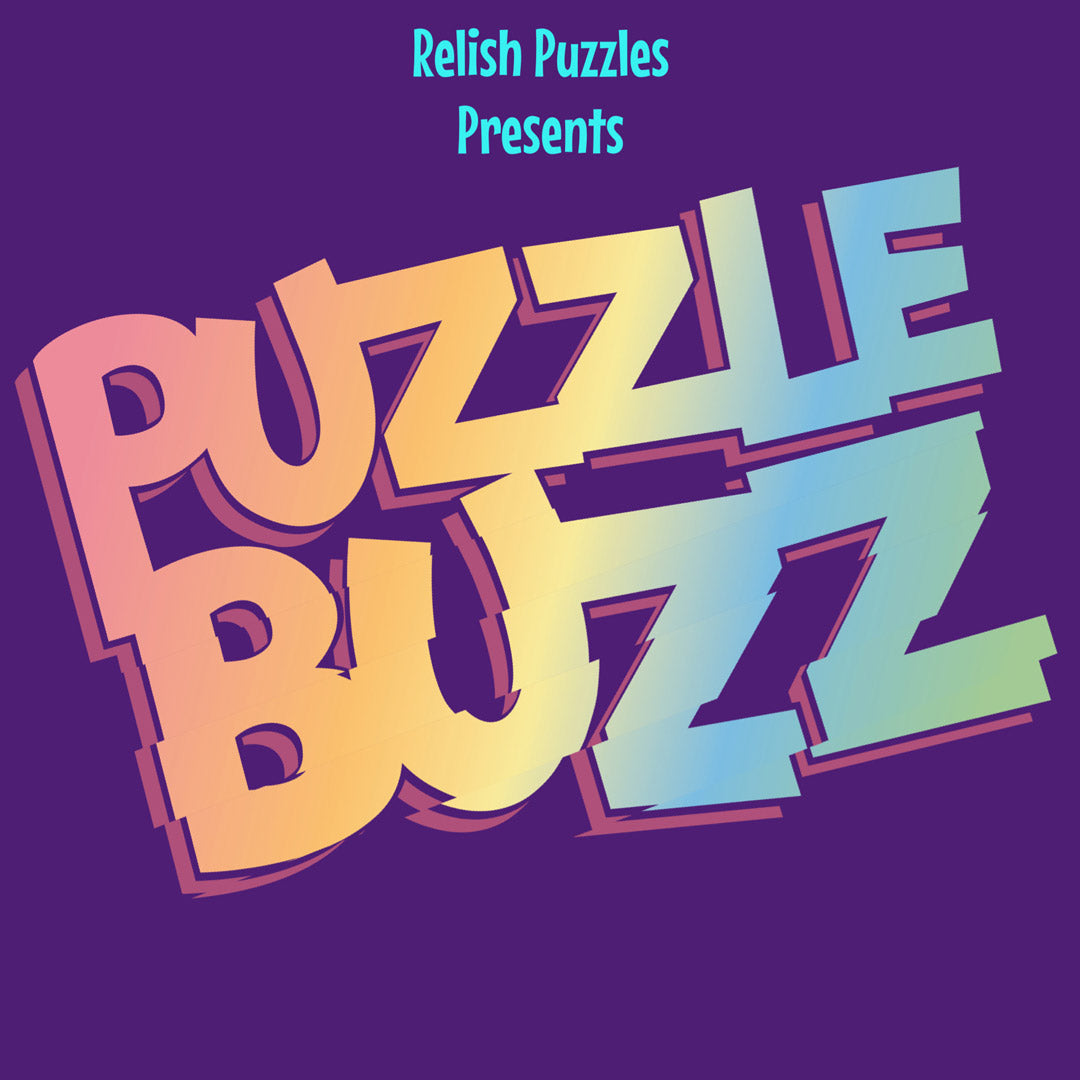 How an Australian created a buzz in the puzzle community



Written by Narelle (Rell) Hill / August 14, 2023 / Profile Photo: Puzzle Buzz logo
Puzzlers fall into many categories and we all have our reasons for starting.
There's the lifelong puzzler, the pandemic puzzler, the retired puzzler, the occasional puzzler and so on. My story is a little different. I did indeed start puzzling during the pandemic but my reason was far from Covid related. In the middle of 2020, my then 13 year old daughter suddenly started to show symptoms of a neurological disorder.

Towards the very end of 2020, her symptoms had escalated dramatically and she was under the care of a neurologist. Motor tics (involuntary body movement) and vocal tics (involuntary noises and words) were very much a scary and debilitating problem. My husband and I were desperately trying to find a way to stop them and help our stressed and devastated daughter. It was suggested by the neurologist that we could give my daughter (albeit temporary) relief from her tics by distracting her brain. Singing and art were two things suggested but my daughter had been or was already involved in both.

I had a thought that perhaps a jigsaw puzzle might be worth a try. The jigsaw puzzle worked for about a week but then my daughter's tics made her throw the puzzle pieces instead of placing them. We didn't know at the time but Tourette Syndrome was going to be diagnosed in the future. Tourette Syndrome is a very complex disorder but the main thing you should know is that there's little to no controlling the tics associated with it. Due to the throwing of puzzle pieces, jigsaw puzzles became a very frustrating and unfun thing for both of us.

The original 500 piece jigsaw puzzle sat unfinished on my coffee table for a month. I got tired of looking at it so I finished it. I remembered I had another 500 piece puzzle I had bought at the same time as the first, so I figured I might as well finish that one too. The next thing I know, I'm at the store buying 1000 piece puzzles. I was well and truly hooked.
Before too long, I was wondering where I might find other people who loved jigsaw puzzles like I did, so I started with Instagram.
The jigsaw puzzle community on Instagram is such a fun and enthusiastic place to be a part of. If you love puzzles, you will find no other place that's quite like it. It's the best place to find like minded people and those same people are the greatest puzzle enablers on earth. On Instagram I have met some of the most incredible people and it's a given that no-one is ever going to tell you it's a bad idea to buy a puzzle!
Photo above: Rell meeting @puzzle_tree (Rachel) and @puzzel_holic (Kerstin) for the very first time at  Willunga Jigsaw Mania (Puzzle Competition in Australia)
The puzzles and our ever growing wish lists all stem from the many wonderful jigsaw puzzle companies and their constant new offerings. It's always exciting seeing new brands enter the jigsaw puzzle community and we all love when our favourite companies show off their new releases. At times it can be really overwhelming trying to keep up with all of the new jigsaw puzzle designs that are available.
A little idea turns into something big!
Back in early 2021, when I created my @relishpuzzles Instagram account, I was very quickly enamoured with not only befriending other puzzlers, but also making connections with the people behind the jigsaw puzzle companies. In my own personal quest to make my Instagram account stand out and be a little different, I started brainstorming ideas on creating something new and original that would bring a greater sense of community to puzzlers and puzzle companies. I'm very much an ideas person and those ideas have a habit of popping into my head at strange times.
One particular morning I was blow drying my hair when an idea materialized.
What if I were to consolidate news and the latest jigsaw puzzle releases from puzzle companies and post about them on my account? I still to this day think the air from my hair dryer blew all of the rubbish ideas out of my head and left me with that one good one. True story!

I needed to fine tune exactly how I was going to bring this idea to life but first I wanted to find out if puzzle companies would be on board. I contacted one Australian and one USA company and pitched my idea to each. I had to know if my idea would be viable, if any companies would be excited about it or even want to participate! Both companies were instantly thrilled with my pitch and wanted to start right away. I greatly underestimated how big this was going to be.
Originally pitched as "Puzzle Whispers" to even more companies, the idea was quickly embraced and with a name change, Puzzle Buzz was born.
I was going to make that overwhelming feeling of trying to keep up with what's new from jigsaw puzzle companies a little easier for everyone to deal with. Puzzlers would see all of the news in one place and companies would get some extra advertising. I learned very quickly that this form of advertising, particularly for brand new companies, was so important. Helping new companies get noticed is probably my most favourite part of Puzzle Buzz.
What is Puzzle Buzz?
Puzzle Buzz is a series of posts that I share on my Instagram account. Jigsaw Puzzle companies will provide me with news they would like me to share with the puzzle community. It can be anything from new releases, sneak peeks, production news, giveaways, discounts, upcoming sales and so much more. Over 2-3 weeks, I create images and text for each individual company. All of the news gets shared in approximately 4-6 consecutive posts in carousel format on my Instagram account (which is mirrored to my Relish Puzzles Facebook page). I usually have around 30-40 participating companies at one time. It's 100% a labour of love and the reaction from the puzzle community makes every "issue" worth the effort.

Working on Puzzle Buzz has been a pretty big learning curve and it takes a fair bit of planning to pull an issue together. As mentioned, it will take 2-3 weeks to create just the images and text for each company, but outside of that there's multiple DM's back and forth with each participating company. What I create for a company must meet their approval, that can take multiple edits. If a new company wants to participate, I need to research them to make sure that they are legitimate and ethical (not using unlicensed images on their puzzles for example). You can see why I tend to be a little quiet around Puzzle Buzz time!

Puzzle Buzz was originally posted every month, in fact to begin with it was going to be posted each fortnight! My very first issue had around 5-6 participating companies and it quickly exploded from there. As more companies have come on board and due to the workload, issues are now posted every three months with occasional special edition posts. I also repost International Puzzle Day and Black Friday sales from companies to my Puzzle Buzz highlight on my Instagram account in keeping with the "everything in one place" idea.
What's next for Puzzle Buzz?
The workload for Puzzle Buzz makes it impossible for me to do more physical issues but as I mentioned above, I'm an ideas person! Puzzle Buzz Live is in the works, so I can spread more puzzle news more often. Slated for late 2023 or early 2024, I'll be talking about puzzle company news live on my Instagram account with rotating guest hosts.
Some puzzlers jokingly call me the "CNN of the puzzle world"…sometimes the joke becomes the reality!
Photo above: Rell posing with her mom at Willunga Jigsaw Mania (Puzzle Competition in Australia)

Get to know the Author: 

Narelle (Rell) Hill
Narelle (Rell) is an Australian jigsaw puzzler who is passionate about sharing the latest news from puzzle companies to the jigsaw puzzle community.