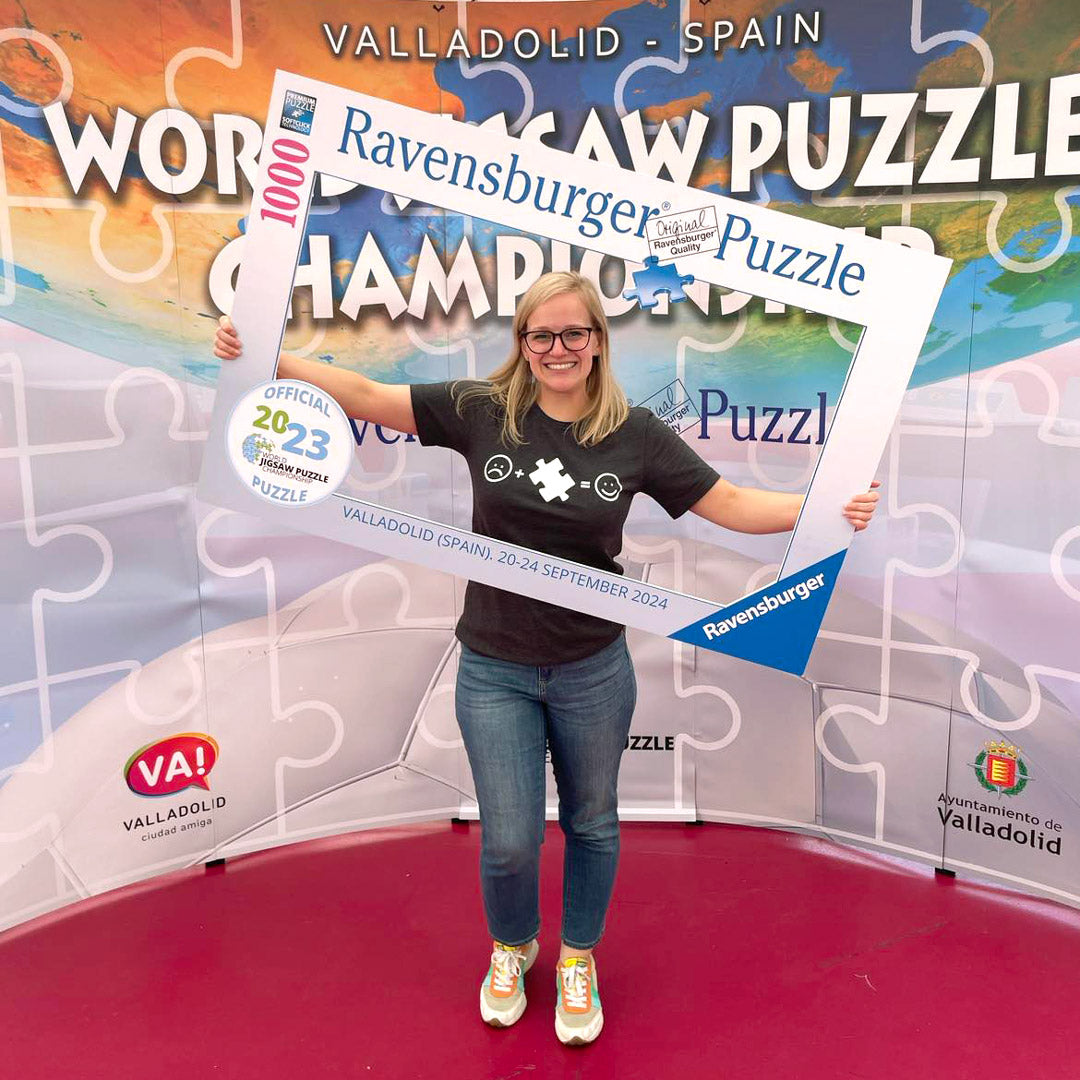 How I Spent my Time at the World Jigsaw Puzzle Championship in Spain



Written by Sarah Schuler aka Sarah Does Puzzles / November 9, 2023 / Profile Photo: Sarah at the World Jigsaw Puzzle Championship, Spain
It's hard to believe that my first trip to Europe would be for a puzzle contest, but it is pretty fitting. Puzzles have been the foundation of almost all of my travels in the past few years. I've met up with internet puzzle friends in Indiana, competed in the USA national competition in San Diego, and attended a conference on jigsaws in Massachusetts. 
The World Jigsaw Puzzle Championship is hosted by The World Jigsaw Puzzle Federation, and draws hundreds of competitors each year. Puzzlers representing over 50 countries gathered in Valladolid, Spain for a weekend of speed puzzling fun. Although puzzling did make up a significant amount of my time in Spain, I also got to have some non-puzzling adventures while there! Keep reading to hear about all the amazing things Spain has to offer. 
September 16th
My day started with a quick flight from St. Paul,MN to Atlanta, GA where I had a short layover before heading to Madrid. I was a little nervous as I was traveling alone and don't speak Spanish. Luckily, I ran into some puzzle friends at MSP who happened to be on both flights with me. We got on the plane and started our long journey to Madrid!
September 17th
After a long and sleepless flight, I was finally in Spain! I met up with a friend flying in from California at the same time, and we headed off to meet up with some other friends in Madrid. I'm so glad I decided to fly out a few days before the competition to allow myself to adjust to the time difference and do some sightseeing! I definitely recommend this if you go.
September 18th
The jet lag was real, and I slept for 12 hours my first night in Spain. But after all the sleep, I was ready for a day of touring the city. My friends and I started the day with a coffee and breakfast at a cafe, and then we walked to the Prado. I was looking forward to this art museum as one of my favorite paintings, "The Garden of Earthly Delights" by Hieronymus Bosch, is displayed there. Puzzlers might recognize the work of art as it is a popular image for puzzles! We headed over to the Reina Sofia museum and spent time wandering the halls and taking in all the art. We also had a chance to visit Don Juego, an amazing toy and puzzle store in Madrid. Of course I picked up a few puzzles to bring home!
September 19th
After a busy day, I needed a more relaxed and slow paced day to balance it out. I went to lunch at an amazing vegan restaurant, and I still am thinking about how delicious it was! After that, I had to get some work done and spent the rest of my day relaxing and getting ready for the competition.
September 20th
I spent the morning at a cafe and checking out some local shops. Then my friends and I boarded a train to Valladolid, where the competition was taking place. After checking in at my airbnb, my teammates and I practiced a few puzzles as we had never puzzled all together as a team! Team USA got together to take some group photos and then we headed off to the opening ceremonies in the dome. I ended my night at dinner with puzzle friends excited for the start of competition.
Competition Days: September 21st through September 24th
I was competing in individual, pairs, and teams, so there was a lot of puzzling ahead for me. The first individual qualifying round was the most nervous I had ever been at a puzzle contest. I was shaking as I opened the box, but calmed my nerves for the rest of the race. After that first round, I felt progressively more calm at the start of each round. If you want a full rundown of all my competitions, you can watch my YouTube video recap below.
Outside of the competition times, I got to spend time talking with puzzlers from all over the world. It was the first time I was meeting some of my puzzle pals from other countries in person even though I had been friends with them for over 3 years online. The feeling in the arena was just so electric and exciting. It is exhilarating to be around so many people that share the same passion as you. 
The puzzling community is so incredibly kind and inviting.
One of the things I love about speed puzzling is how everyone supports each other, even if you are competing against one another. The spectators were a mixture of competitors and puzzle fans, and every time someone finished their puzzle, the whole crowd erupted in cheers no matter who they were there to support. That's not something seen in many sports. 
Worlds was such a unique experience, and one that I will never forget. I hope that reading through my travel diary has inspired you to make the trip to Valladolid in 2024 to attend next year's championship. It's a great way to have an adventure, meet new puzzle friends, and spend time doing something you love! I'll see you in Spain!
Learn more about Sarah in her recent interview by CBS News Minnesota

Get to know the Author: 

Sarah Does Puzzles
Sarah is a competitive jigsaw puzzler living in St. Paul, MN. She loves puzzles so much she made a career out of it and now works to connect puzzle companies to content creators and the puzzling community.