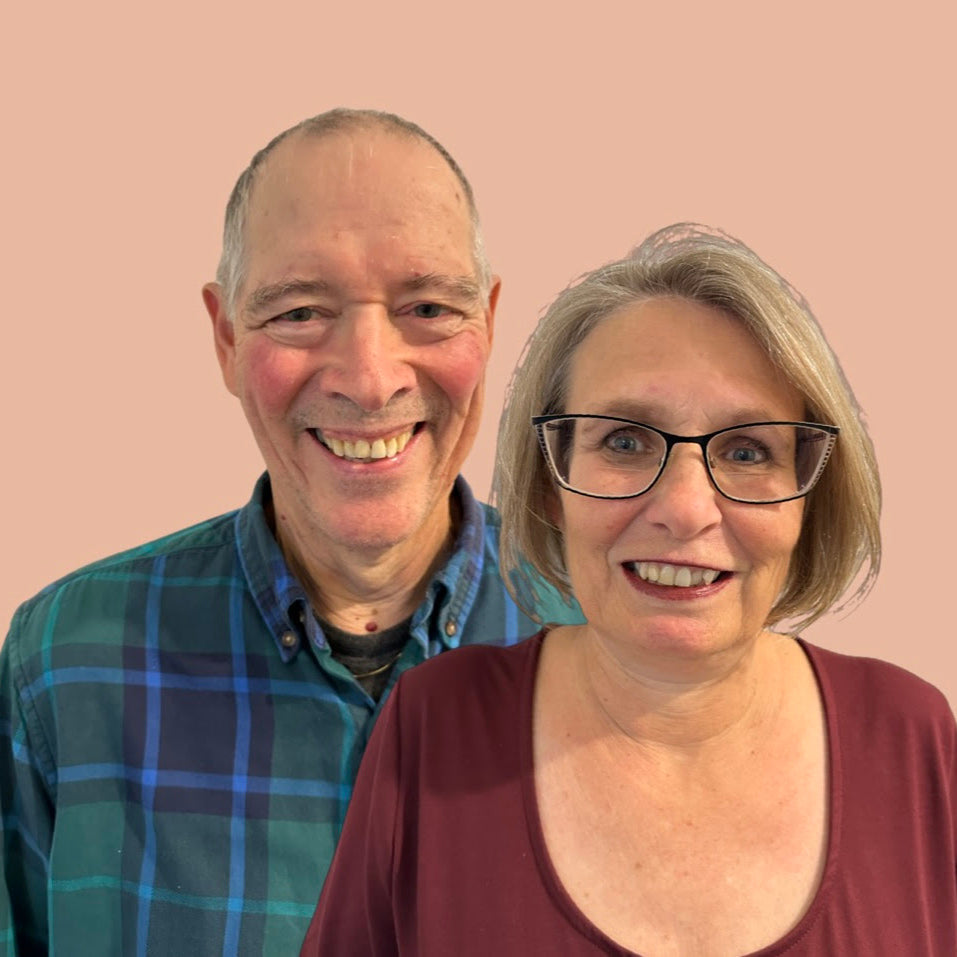 How I became a Puzzle Imagineer



Written by Monica Marlatt AKA @puzzledabouteverything / October 22, 2023 / Profile Photo: Monica and her husband
Serious puzzling became my solace when the empty nester phase began in my life.
After being a stay-at-home mom for 25 years, I found myself struggling when the last of my three children moved away. I was unprepared for how difficult it would be once they left. With my husband still working, I was happy to rediscover the therapeutic joy of completing puzzles. It turned out to be a great boost for my mental well-being. However, after a while I started to feel dissatisfied to complete a puzzle to just put them back in the box.
I started to think that there had to be another way to showcase a puzzle.
That's when I gave myself the title of Puzzle Imagineer and started to make puzzle reels. Being a naturally creative person, this has become an expressive outlet that brings me so much pleasure and further improves my mental health. I love doing it. 
I am not naturally tech-savvy. People assume I have a background in visual arts and computer skills, but that's far from the truth. I dedicated my time to raising three wonderful children, so there was no social media presence back then. After I decided to make puzzle reels, I have been constantly learning new software applications and effects by myself. Although not all of my experiments turn out successfully, I love the challenge it brings me. I've tackled numerous tutorials to hone my skills. If you asked me to replicate any of them now, I'd probably need another tutorial! 
I watch many reels to follow trends and be inspired with fresh ideas.
It hasn't always been easy, but it certainly is fun. These reels have become a lifeline, especially as I'm getting older. I have concerns about dementia given our family history. Weekly tutorials have become one of the best things I can do for my brain. It's crucial to keep learning something new. I know many people master these technical skills so much better than I do but I've never claimed to be a professional. It's so satisfying when I finally figure things out. It may take me a while but I get the job done.

We reside in a large city in a compact condo. There is no dedicated puzzle or photography room. Puzzles are scattered throughout our living space in closets, underneath beds, and tucked away in corners. The most puzzles I can have at one time is approximately 80 boxes. To work on a new puzzle, an old one has to be passed along to make room. When we do a puzzle reel, it's a bit of a production, requiring us to temporarily move our living room furniture and set up tripods and lights. I do the best I can with the available space and resources. 
As my husband is now retired, he joins me in constructing puzzles and creating these reels.
It has definitely enhanced our marriage. We have been married close to 40 years. Reconnecting with each other, now that the children are gone, and working together as "PuzzledAboutEverything," has been a wonderful way to get to know each other again.  
During the day we might puzzle or make a reel together. We often take longs walks exploring the city, searching for new and interesting puzzle shoot locations. It's fantastic because it's our way of staying active; otherwise, we'd be sitting on the sofa, idly watching TV. Our evenings are usually spent sharing a glass of wine or beer, discussing music choices for the reels, or brainstorming ideas for our next project. This journey has been truly remarkable, and sharing it with my partner has been the best part.
I started my Instagram account because my children asked me to stop bombarding them with pictures of completed puzzles.
They recommended I start an Instagram account, I had no idea what that was. That was five years ago, and just look at where I am now. Who could have predicted this? The irony here is that my children now engage more with my puzzle posts on Instagram than they ever did when I simply sent them pictures. 

The warm reception my husband and I have received from the puzzle community has been overwhelming, and we're deeply grateful for the follows, views, likes, and comments. We genuinely feel blessed to be a part of this incredible community where we are loved.
The puzzle community has such a big heart.
I organize our vacation trips with the goal of visiting a brand, a store, or a fellow puzzle lover. Through these adventures, we've forged countless new and incredible friendships. I'd like to extend an open invitation to all my followers; if you ever happen to be in Toronto, don't hesitate to get in touch, perhaps we can enjoy some puzzle discussions over a beer together.
Is there more to this puzzle-filled life that I haven't shared? You betcha! I just can't talk about it too much as details are still being worked out. Believe me, I can't wait to share the news with you. To be continued…..

Get to know the Author: 

Monica Marlatt
Monica is an avid puzzler and a creative puzzle reel maker based in Toronto, Canada. She enjoys learning new skills to master her videos everyday, and recently her husband has joined the puzzle reel production team!