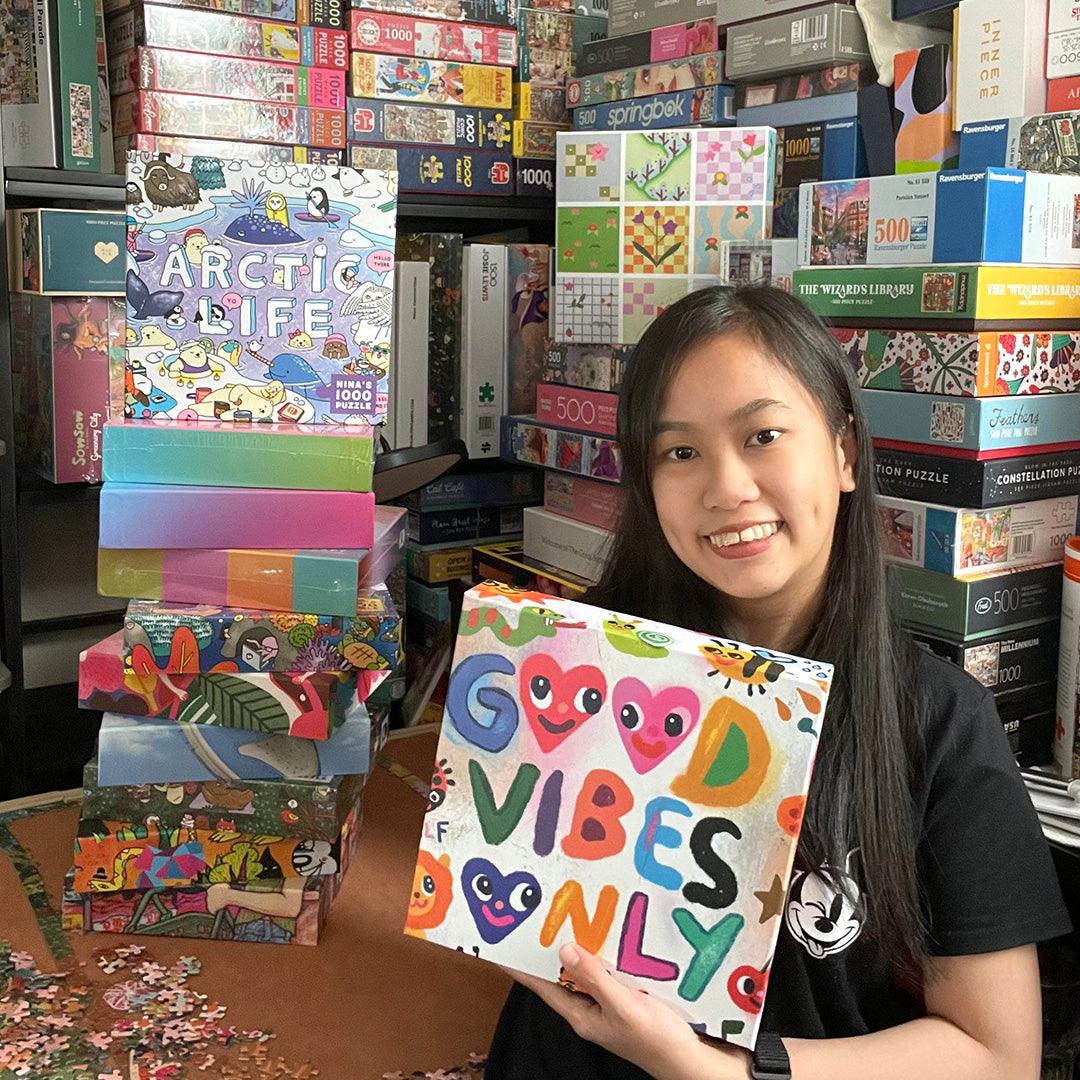 What's your name?
Tina Enriquez
Where are you from?
Philippines but living in USA
When did you start puzzling?
Growing up in the Philippines, puzzles are not really a big hit and are hard to find. So when a friend of mind gave me a cute 9 piece Batman and Barbie puzzles thats when I got hooked and went to every convenience store in front of my old school and found 3 50 piece Mickey Mouse puzzles . I remember doing it a hundred times before I grew out of it. Then when the pandemic hit, my puzzle hobby started to pick up from a stack of 3 Harry Potter Puzzles to a whole room full of puzzles.
What is your favorite piece count and why?
500 piece puzzles are my sweet spot when it comes to puzzles since it only takes me a few hours to work on especially during work days.
What is your favorite type of art?
My favorite type of puzzles are those weird and whimsical kind just like Janet Hill and cute and pretty just like Elewhite, Olivia Gibbs and Soonness of course!
What makes you keep puzzling and how often do you puzzle?
Puzzles for me serve as an outlet and help me with my stress and homesickness since I'm far away from my family and friends. It helps me zone out and not really think about the distance. I often do puzzle after work hours during weekdays and the whole weekend when I really want to zone out and relax.
What is your go to drink/snack when you puzzle?
My go to snack is a cup of coffee and Piattos (cheese flavored chips popular in the Philippines)
Tell us a little bit about your other joys.
I really love watching different Crime Series TV Shows and of course Grey's Anatomy. I also love traveling and going to different falls and rivers when I go back home to the Philippines.