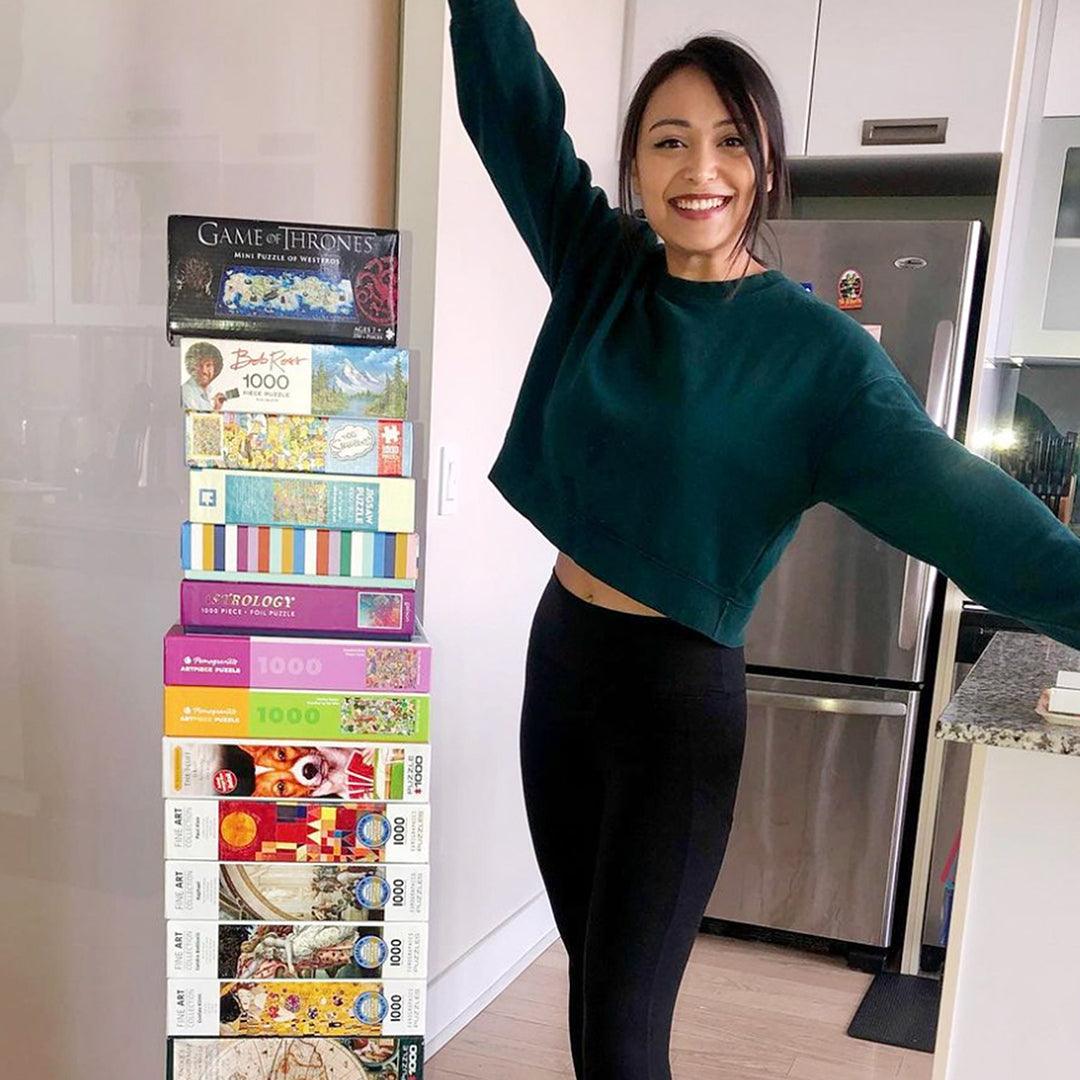 What's your name? 
Victoria, I also go by Vic 
Where are you from? 
Toronto, Canada
When did you start puzzling? 
I got really into puzzles in January 2020. I was staying at a resort about 3 hours away from Toronto with my boyfriend's company for a conference. I was bored while he was in meetings all day so I decided to go to the games hall to find something to do. And I found a puzzle. The rest is history! 
What is your favorite piece count and why? 
I definitely prefer 1000 pieces; it's challenging enough to keep me occupied for a few sessions. I can finish a 500 piece puzzle in roughly 3-4 hours; a 1000 piece usually takes me 6-8 hours. But I don't really have a true preference - I'll try anything piece count. I just don't have the room on my puzzle board for anything bigger than a 1500 piece one :( 
What is your favorite type of art? 
Anything with a lot of different colours. I love rainbow gradients, anything with distinct lines or patterns. To change things up I also like doing puzzles with animals or characters I like. 
What makes you keep puzzling and how often do you puzzle? 
It is so stress relieving and it makes me feel calm. My absolute favourite way to destress is to put on a favourite album and do a puzzle. I love singing/dancing while puzzling. I do at least one 2hr session a week, but if I have a lot of downtime that week I can finish up to 2 puzzles. 
What is your go to drink/snack when you puzzle? 
Tea and fruit! I LOVE TEA. That's why my channel is called "Par-tea!" 
Tell us a little bit about your other joys. 
I love dogs so much and I'm so lucky to have one -- her name is Nola and she's in some of my videos. I also love indoor cycling (spinning). As mentioned, listening to music is one of my stress relievers, so music is very important to me. I love going to concerts! 
Youtube