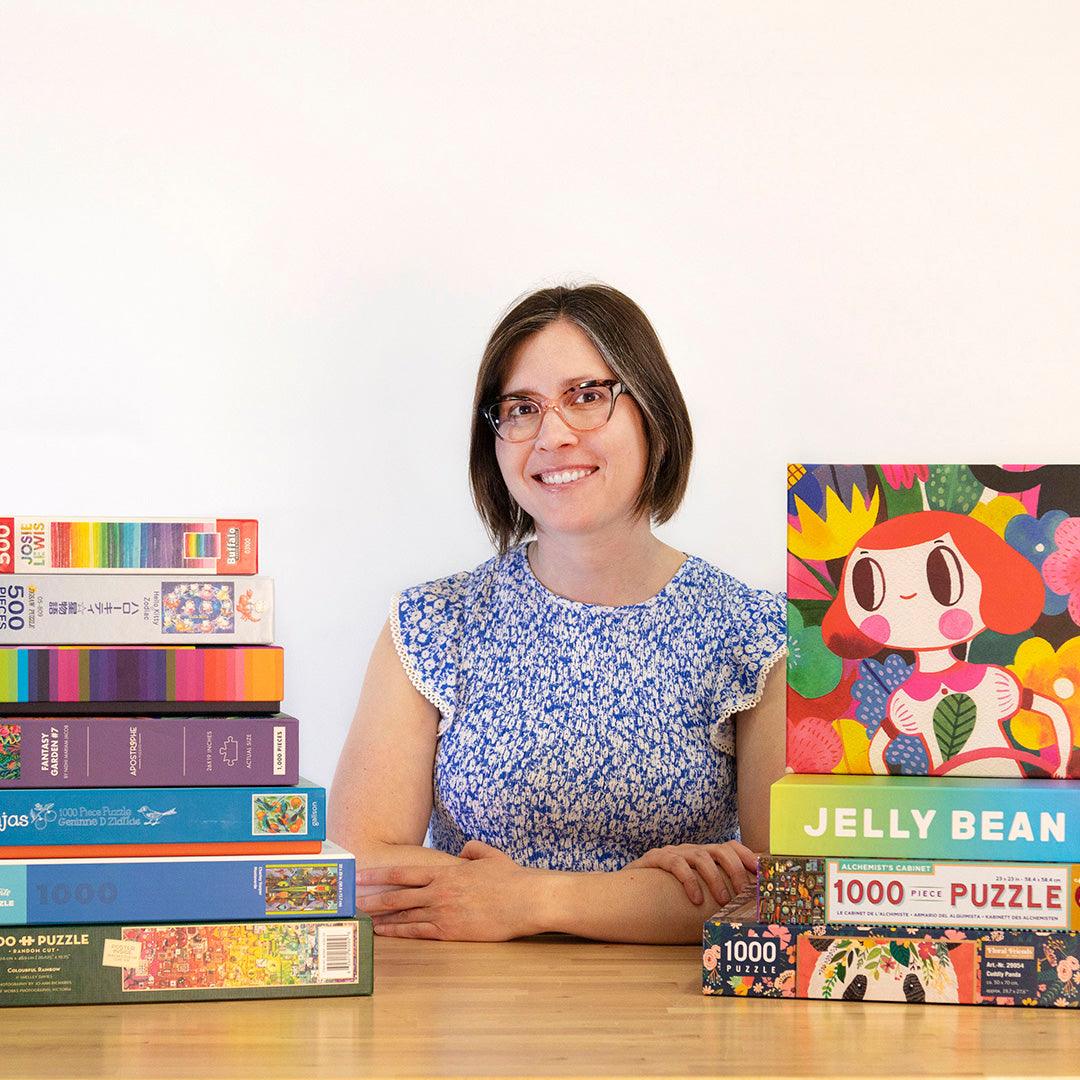 What's your name?
Alison
Where are you from?
Iowa City, IA
When did you start puzzling?
I started puzzling when I was a child and I remember one Christmas my brother and dad painted a big piece of wood for me so I could do puzzles on the carpet and even made a sorting tray. My brother did an excellent 90s pink and purple spray paint job on them! Back then I had several puzzles I did on repeat. I picked up puzzling again in grad school as a way to destress but then life got in the way. After a long hiatus I picked it back up again during the Christmas holiday of 2021 when I put together one of the puzzles from my childhood with my family and I haven't been able to stop since!
What is your favorite piece count and why?
Overall, 1,000 pieces is my favorite because the puzzles are a good size and there's room for lots of detail in the image. They are also challenging but still doable in a few days. I am also a sucker for the vintage 500 piece Springboks!
What is your favorite type of art?
I really like bright colors and illustrations. I especially enjoy detailed puzzles where you find unexpected things in the image as you puzzle.
What makes you keep puzzling and how often do you puzzle?
Puzzling is relaxing and challenging at the same time. I also really enjoy the satisfaction of finishing a puzzle. There are so many tasks at home and work that never quite seem to end and puzzles have a definitive end which I really appreciate! Some weeks I puzzle every day and some weeks just a few days a week.
What is your go to drink/snack when you puzzle?
I don't really have a go to snack when I puzzle but I do often have a cup of tea while puzzling – especially on the weekends. I did once drop a piece in my mug of tea – thankfully I was able to dry it off with no damage.
Tell us a little bit about your other joys.
I love to make things – anything from stuffed animals, embroidery, collages, silkscreen prints, upcycled thrifted items, etc. Quite a few of these projects end up in window displays I do for the oldest jewelry store in Iowa, Hands Jewelers. I also love to cook and spend time with my cat, two dogs, and family.