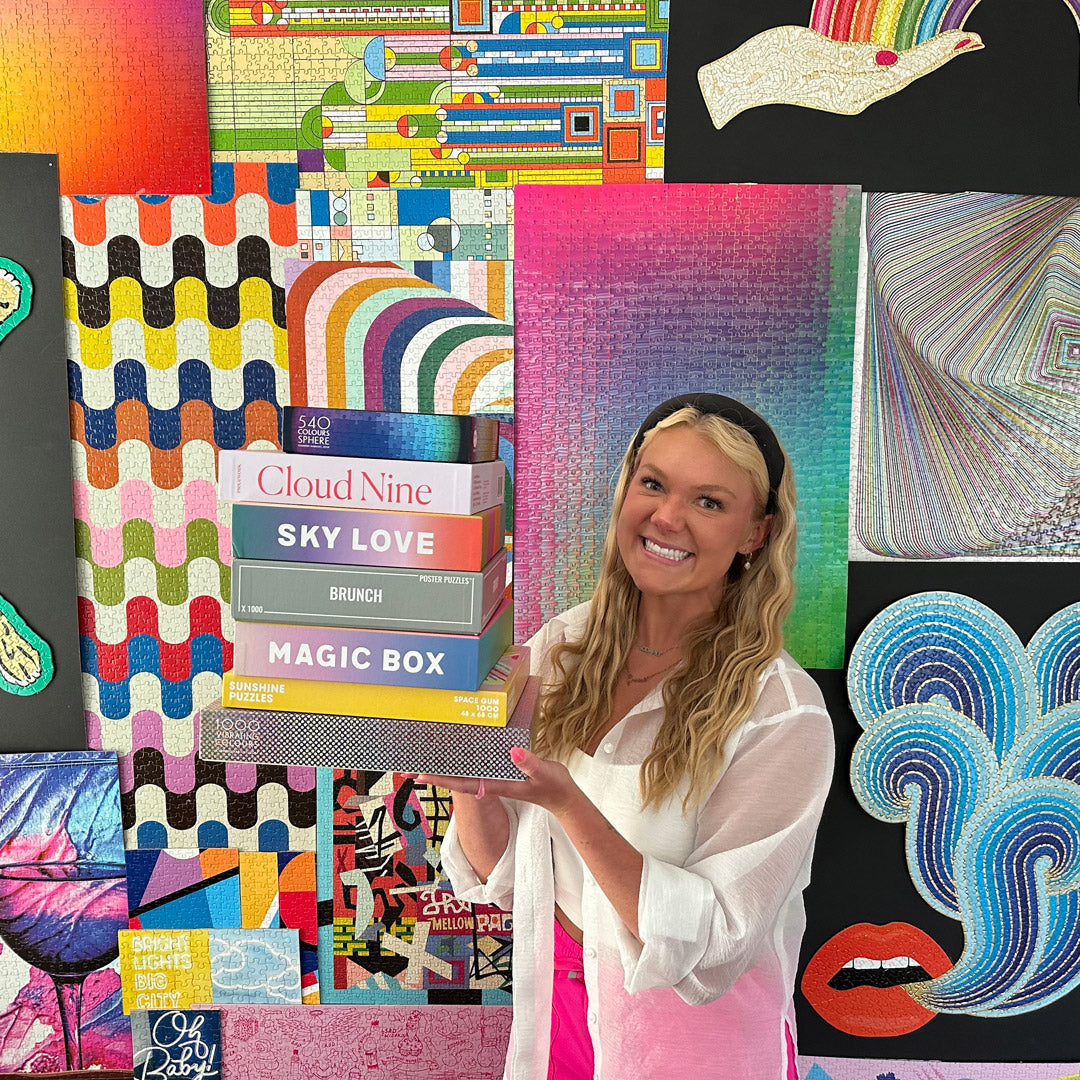 What's your name?
Gracie aka puzzletokkkk
Where are you based?
Nashville, Tennessee, United States
Tell us about what your ordinary day looks like.
By day, I'm an executive recruiter for healthcare technology companies. By night (well I guess evening after work), I puzzle! I try my best to film each puzzle, but sometimes I don't wanna set up the tripod because I'm lazy.
How did you get into the world of puzzling?
When I was a kid, I would do puzzles all the time, but I eventually "grew out" of it by the time I hit double digits. Last year, I moved into a new house and was visiting with one of my neighbors when I saw he and his roommate were doing a 1000 piece Tennessee Volunteer puzzle (Go Vols!). I asked if I could do it once they finished and once I got my hands on that bad boy, it was game over. From there, I started searching different websites for colorful, abstract puzzles. I was drawn to the bright, fun puzzles because I'd like to think it matches my personality 🤪 I was blowing up my personal instagram with videos of the puzzles and finally decided to make a TikTok account to share the joy. I had no idea there were so many puzzlers out there and I'm proud to be a part of the puzzle community!
What makes you keep puzzling & how often do you puzzle?
Puzzling keeps me grounded. My brain goes 100mph 24/7, so being able to sit down and only focus on the puzzle really helps slow me down and breathe. I puzzle almost every day after work and it really gives me something to look forward to if I've had a busy day! In the summertime, I don't puzzle as much because I want to be out and about with friends and family on the weekends, but give me a rainy weekend and I'll crank out a 1000 piece puzzle in one sitting.
What is your favorite type of puzzles?
I don't really have the space to do any puzzles bigger than 1000 pieces, so I've mostly stuck with 1000 pieces or below. I love anything colorful/abstract/FUN!
During puzzling sessions, do you listen to anything or puzzle in silence?
I'll either put on an audiobook (psychological thrillers... idk what that says about me) or put on a show that I've seen before (Gossip Girl, HTGAWM, Game of Thrones, etc.) so I don't have to look up to know what's going on!
If you were to describe what puzzling means to you, what would it be?
Joy, accomplishment, and honestly pretty healing (not to get too deep on y'all hehe)
Tell us about your other interests & joys.
This is awkward... puzzles are my only other hobby LOL does hanging out with my friends and family count? Oh, I love my job! Don't get me started talking about it because I loveeee what I do and it brings me so much joy :)
Do you have anything you want to share?
I just want to say thank you to everyone who has supported me or even watched one of my videos! I would love to meet some fellow puzzlers one day, so please let me know of any puzzle events!