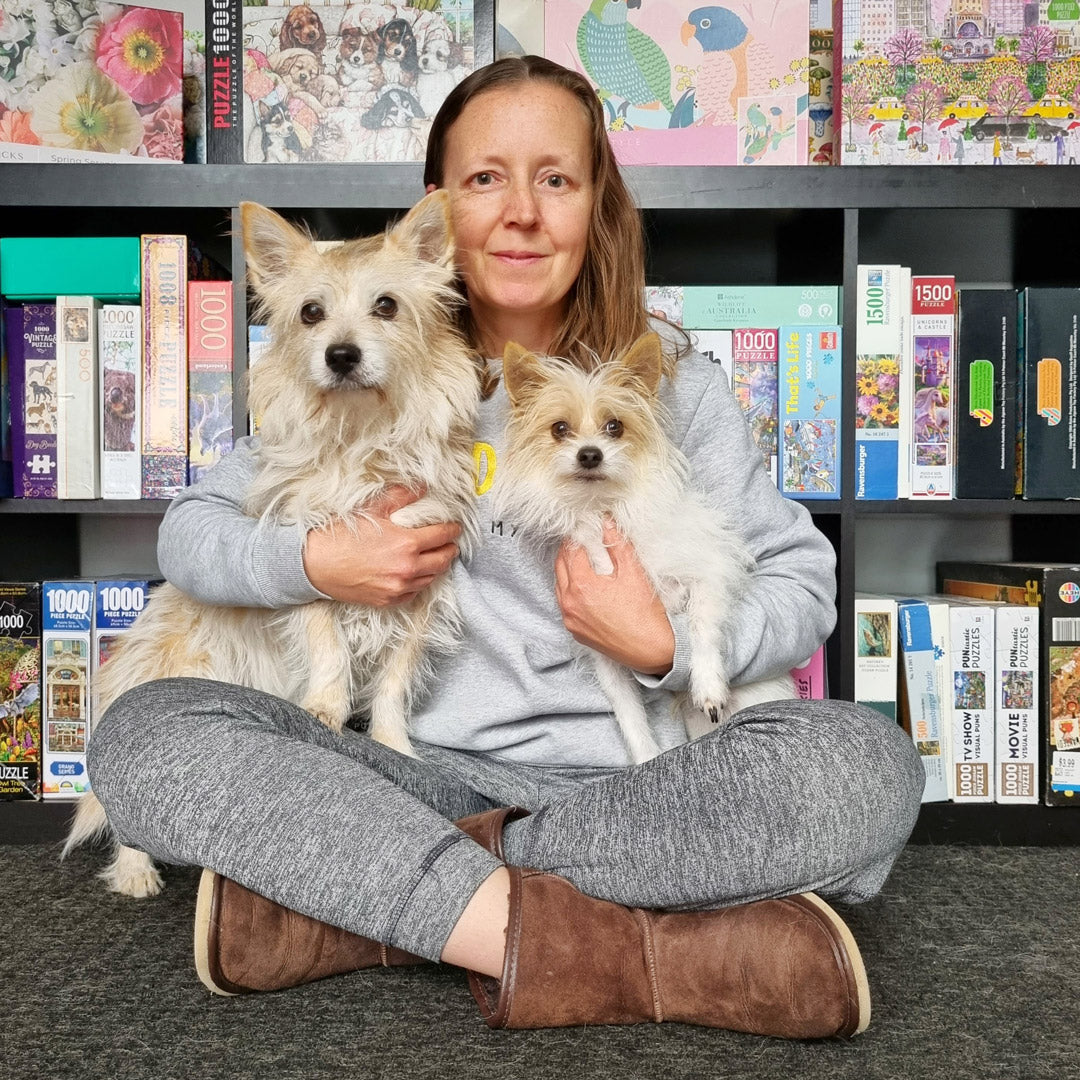 What's your name?
Rachel
Where are you based?
Adelaide, South Australia
Tell us about what your ordinary day looks like.
I'm an early bird so I like to puzzle first thing in the morning. I walk my dogs Daisy & Rory at 6:15am on week days. I work in a pre school so my days are busy but oh so rewarding. On the weekends I enjoy spending time with my husband, Daisy & Rory. We like going for walks, visiting family and friends or simply hanging out at home - which mostly involves me puzzling. We both enjoy the football and barrack for the Mighty Adelaide Crows!
How did you get into the world of puzzling?
I remember doing a Little Bo Peep puzzle over and over again as a child. I started puzzling again in 2016 but was only a puzzle here or there. Since 2020 I've been puzzling like a crazy puzzle addicted person! There is ALWAYS a puzzle on my board and my to do pile is always growing!
What makes you keep puzzling & how often do you puzzle?
Puzzling relaxes me and I love the feeling of starting with complete chaos and ending with a completed image. I puzzle every single day and I absolutely love the puzzling community!
What is your favorite type of puzzles?
Animals, in particular dogs. I also like floral or scenic puzzles but not puzzles with too much of the same colour. I mostly do 1000 piece puzzles but occasionally do 300s or 500s. My biggest puzzle was a 3000 piece which I did in January last year.
During puzzling sessions, do you listen to anything or puzzle in silence?
If I'm home by myself I'll sometimes listen to music otherwise it's normally whatever my husband is watching on TV.
If you were to describe what puzzling means to you, what would it be?
It means everything to me. I miss my puzzle when I'm not with it! I have a puzzle app on my phone that I enjoy, it gives me peace when I'm separated from my puzzles for a long time.
Tell us about your other interests & joys.
I enjoy the outdoors, going to concerts, photography and board game nights with family/friends. I enjoy going on holidays with my husband, Daisy, Rory and my puzzles!
Do you have anything you want to share?
I like to think of myself as quite a happy and positive person. I like to enjoy every day that I'm lucky enough to have on this earth.
I like to do my bit for the environment and try and rescue things from going into landfill by donating them to people mainly through my local buy nothing group.