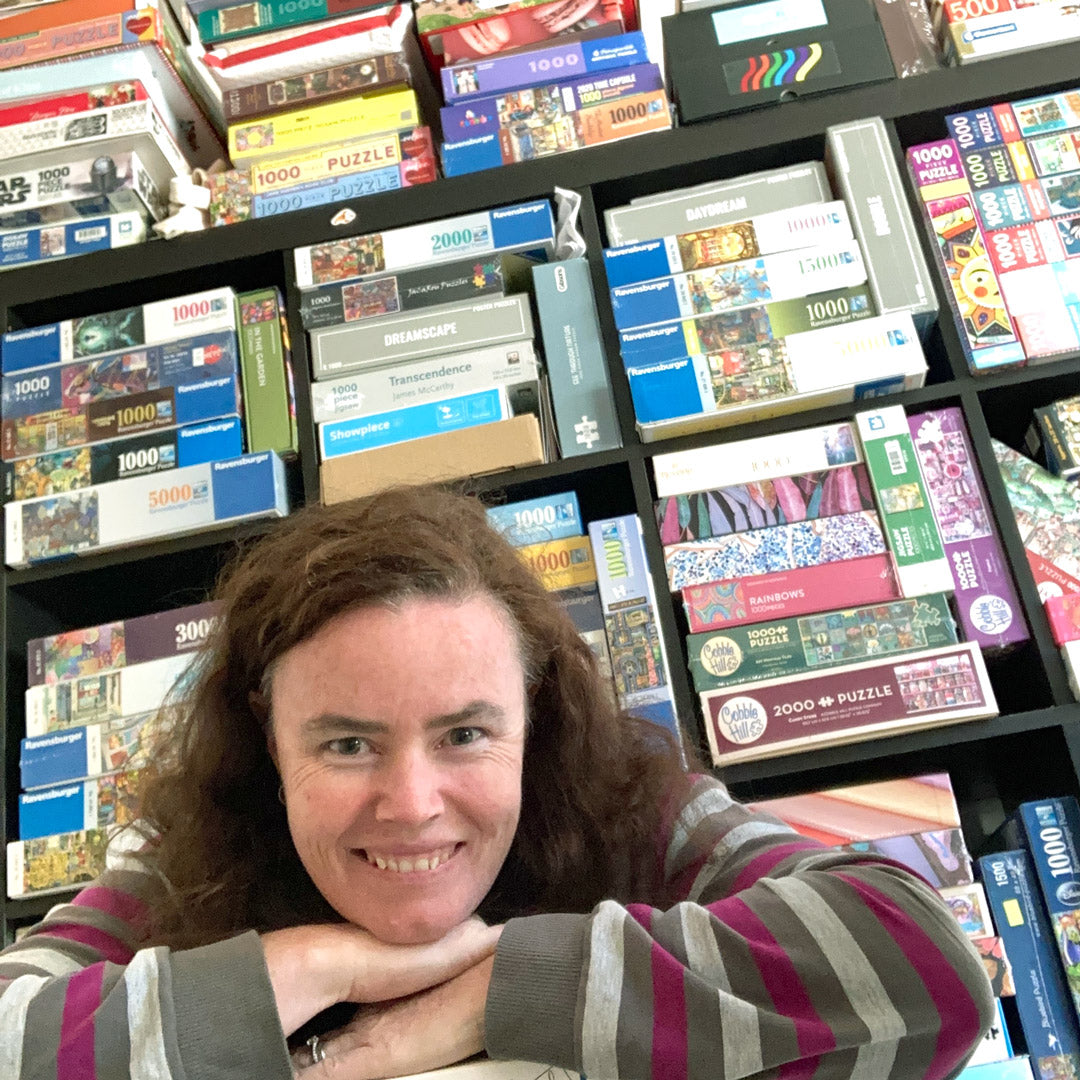 What's your name?
Mel Robinson
Where are you based?
Sydney, Australia
Tell us about what your ordinary day looks like.
I work part-time as a medical researcher at a university and I'm a mum of two girls. My days always start off busy getting the kids fed, dressed and out the door in time for school and daycare. I'm lucky enough to work most days at home. I can sneak in a little time to place some puzzle pieces. There's always one on the go on the dining table, and a smaller one on my work desk (the great procrastinator). Nights get busy again after work, hubby is such a great cook and once kids are in bed, we usually sit down at the dining table and puzzle a little more together, chatting about our day. This is my favourite part of the day to relax, unwind and chill with my bestie.
How did you get into the world of puzzling?
I've always liked puzzles but never had any of my own. Then hubby got one for his birthday about 10 years ago, and we would do it over and over. By the time my second baby was due, I pondered my maternity leave and thought a puzzle or two might keep me occupied for a bit. I found a local puzzle swap group early 2020 and thought it would be good to swap the only one we had to change things up a little. 3 months later, COVID arrived and the swap group went nuts with loads of puzzle offerings and I tumbled down the puzzling rabbit hole; I was introduced to many different puzzle images and brands. Let's just say I puzzled more than two that year. At the end of 2021, I joined Instagram at the request of a puzzle friend from the local swap group and my little puzzling world keeps getting bigger and better.
What makes you keep puzzling & how often do you puzzle?
Before kids, hubby and I would relax on a couch, watch random TV shows or movies every night. I used to experience bouts of anxiety and sometimes had to walk away from watching an intense show after a difficult day at work. After discovering a love for puzzling together during the lockdowns, we have kept it up most nights ever since and although it helps me to de-stress, it's also the perfect time to reconnect with each other. As the kids are getting a little older, I also have kid-puzzle time most weekends, which is an entirely different experience but oh so special to see their faces light up once the puzzle is complete.
What is your favorite type of puzzles?
I'm a fan of the 1000-piece puzzles mostly because they fit the table but I do enjoy the smaller counts as well with the kids or on my work desk, for that little bit of stress-relief between busy moments. Puzzle images that grab my attention are bright, fun colours with an abstract look or a gorgeous story-telling scene. I have been a lover of fantasy books for as long as I can remember, so any puzzle images relating to magic is a huge plus for me. Quirky-shaped pieces add another fun and challenging element to puzzling which I love, but good, tight-fitting pieces with no false-fits is what I mostly enjoy.
During puzzling sessions, do you listen to anything or puzzle in silence?
I personally prefer to puzzle in silence when solo as there's so much noise in my household otherwise, and it's mostly during the day when working from home. At night when I puzzle with hubby, we play music in the background; mellow indie rock or instrumental (film scores) are our favourite puzzling tunes.
If you were to describe what puzzling means to you, what would it be?
Puzzling is relaxation and yet mental stimulation all at once.
Tell us about your other interests & joys.
It's my little family that bring me most joy. Both hubby and I are a little nerdy, so anything science-related is fun, especially with the kids. Catching up with friends at a local pub is a favourite pastime. I also enjoy going for a jog for a bit of me-time while the rest of the fam bam are on bikes.
Do you have anything you want to share?
I am a very active member in my local puzzle swap group and help source little puzzles for my elderly neighbour. I'm a member of the Australian Jigsaw Puzzle Association and attend to their events as often as I can. Finding the Instagram puzzling community has been so amazing; worldwide puzzle-loving peeps with endless knowledge and inspiration I never would've known about at the local level. I'm so thrilled to be a part of it!