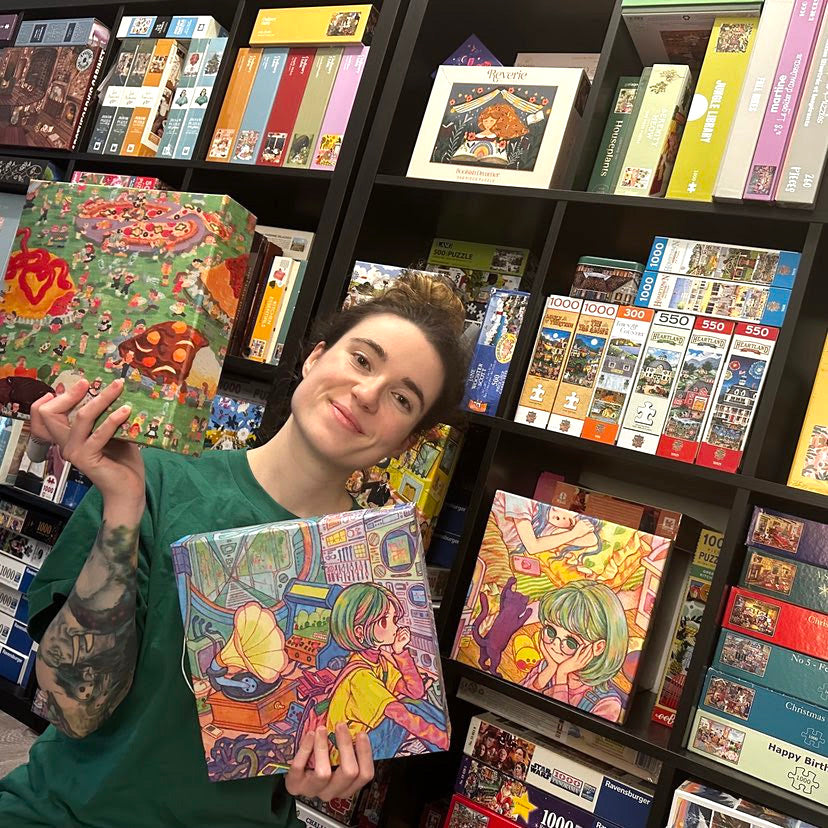 What's your name?
Jeanne or Feuilledepuzzle
Where are you based?
Lille, France
Tell us about what your ordinary day looks like.
I am a young entrepreneur, I work in the wellness practice. I receive people, especially women, to take care of them and listen to their needs. I pace my days according to my energy and my tasks to do. I am a master of my time and I love it! So it often happens that I start my day... by jigsaw!
How did you get into the world of puzzling?
Since forever! When I was young, I was puzzling a lot... and I kept those puzzles with me still today. I love them more than lots of my other jigsaw puzzles now because I'm very nostalgic and sentimental... For french people: I'm like Obélix "je suis tombée dedans quand j'étais petite".
What makes you keep puzzling & how often do you puzzle?
It's a pure moment of quiet and relaxation in my busy days. I always have one (or two.. or three..) puzzle on my table. So I puzzle few times in a day but I try to do puzzle every day. 10 minutes or 8 hours, it's MY moment, to take care of myself and my mind!
What is your favorite type of puzzles?
I don't know if I have a "favorite type" but I like the classic cuts just as much as the random cuts... I love when the puzzles have (lots of) details, colors and cute scenes (like Soonness, hum). I like when illustrators share their art into puzzles... So I don't know if I have a type but I know I don't really like boring photography jigsaw puzzles, solid color puzzles...
During puzzling sessions, do you listen to anything or puzzle in silence?
When I puzzle, I think about nothing... it's so rare when my brain is quiet and restful. So, when my boyfriend is working it's soundless at home and I reallyyyy love it. I only hear my cats snoring (and that's really cute). But in the evenings, I love to watch/hear our favorite streamers, playing video games, or our favorite TV shows.
If you were to describe what puzzling means to you, what would it be?
Just a pure fun, and it's my personal moment. It's a really good therapy in my day to day, to share with the world! I love that puzzling came back again as a modern activity for people of all ages.
Tell us about your other interests & joys.
I love to share my time with my favorite people and my cats, I appreciate personal development, I love yoga, and enjoy slow, manual activities like lego and gunpla.
Do you have anything you want to share?
Just do what you want, with people you choose and who gives you their love... Share lots of beautiful things to the world, love want you do! We are lucky, puzzle people are truly amazing and caring. I love sharing my reviews about jigsaw puzzles on my blog and Instagram. Finally, if anyone is selling the "Supermarket" by Rowon... contact me huhu :)